HIDDEN GARDEN ART SHOW - IN ASSOCIATION WITH CHELSEA FRINGE 2014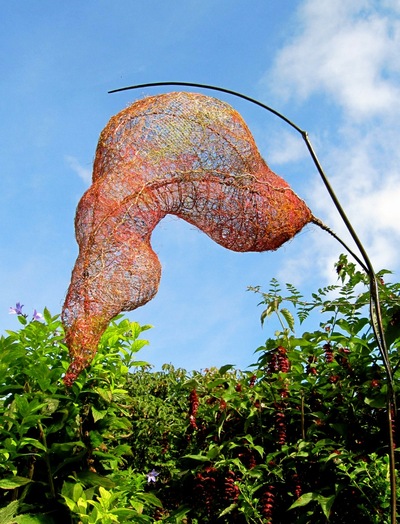 Opening times
24 MAY – 8 JUNE 2014. SATS, SUNS & BANK HOLIDAY MONDAY 2 – 6 pm.
Contact by phone on 020 7435 0510 or email info@maureenmichaelson.com for weekday appointments
Admission is free on all days, except the NGS Open day as below.
Karin Hessenberg, author of the classic book "Ceramics for Gardens & Landscapes" will be in attendance at 'Hidden Garden Art Show' on Bank holiday Monday 26 May 2014, 3 – 6 pm. Karin will be happy to chat to visitors about all aspects of her own work and the range of artists making outdoor ceramics.
We will be open for the National Garden Scheme (NGS) "Yellow Book" on Sunday 8 June, 2 - 6pm. On this day only, there is an admission fee of £3.50 for adults for the NGS charity.
About the exhibition
Our 11th year features seven artists including two exciting talents new to our show. The artists participating this year are:
FIONA CAMPBELL whose woven and welded sculptures made from recycled and found materials such as steel, copper, and wire are modelled on cocoons and nests found in nature.
PETER M CLARKE's steel and copper plant-like forms are justly popular for their simple beauty, easy installation, and incredibly reasonable prices. Some of his designs have been copied by other artists and are sold at 30 times the price!
FRANCES DOHERTY's intricate ceramic flower and seed head sculptures take hours to make and their astonishing skill and beauty has made her a favourite with visitors.
JONATHAN GARRATT's amusing and clever installations are infinitely variable for any outdoor situation. His idiosyncratically shaped planters have an unmatched elegance and sculptural quality.
KARIN HESSENBERG is showing her sturdy stoneware sundial & lanterns, which provide a cheap and easy way for outdoor lighting requiring little more than a tea light.
AMANDA NOBLE makes fused glass panels in a variety of subtle colourways. These are mounted in stainless steel frames that can be sited in beds or lawns, or on slate stands for hard landscaping.
HELEN NOCK slate tables & chairs have proved so popular in recent shows that she can barely keep up with demand. We are very fortunate to always have the pick of her work for our shows.
We will also have selected new works from some of our other regular artists, including SARAH WALTON's birdbaths.
The garden is open from Saturday May 24 until Sunday 8 June on Saturdays, Sundays and Bank Holiday Monday from 2 – 6pm. On Sunday 8 June we are also open for the National Garden Scheme "Yellow Book" charity. For this day only, admission is £3.50 for adults and free for children. Admission is free on all other days.
We are also participating in the third annual Chelsea Fringe Festival 2014, an exciting addition to the London season.