Welcome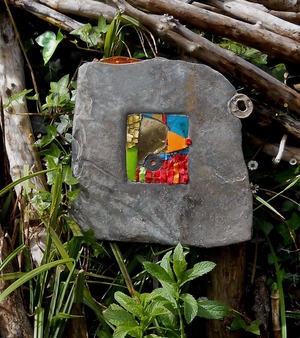 For over 25 years Maureen Michaelson Gallery has been at the forefront of contemporary ceramics. An agent for several ceramists of international standing, the Gallery also represents artists working in other areas of the applied arts.
We also offer a personalised applied art advisory and commissioning service. We help with every step of the way in sourcing one-off artworks for your home or garden, making the whole process an enjoyable and stress free adventure. With over 30 years of experience in the field as a collector and gallerist, Maureen has links to countless artists who make ceramics, sculpture, furniture and jewellery and those who work with materials such as metal, wood, glass and paper. She was also one of the pioneers of promoting art for gardens.
Upcoming Events
MOSTLY MOSAIC: WORKSHOP AND TALK WITH ARTIST HELEN NOCK
Helen Nock, whose slate and mosaic tables, stools and birdbaths have been among the most sought after items at our annual garden exhibitions, will be making a rare visit to London for our 6th Chelsea Fringe event.
Helen will be talking about all sorts of topics including mosaic techniques and her artistic journey during the workshop sessions, so even if you are not participating in making a mosaic, you may find it very interesting to observe the session. There is a charge for participating in a workshop, but no fee for observing the workshops or for attending the talk on Sunday.
HANDS-ON MOSAIC WORKSHOPS Saturday 3 June, 3-5pm and Sunday 4 June, 2-4pm
Helen will be conducting a workshop session, where anyone aged 18+ can try their hand at making a small mosaic. Helen will be supplying all tools and materials and participants will be able to go home with their very own unique and beautiful object. The workshop will be tailored to suit anyone from complete beginners to more advanced mosaic artists. There will be a charge per participant for the workshop session to cover the cost of materials: £10 for beginners working on easy shapes; £15 for more complex shapes.
Spaces are limited so please reply to: info@maureenmichaelson.com or telephone 0207435 0510 if you would like to reserve a place or would like further details.
ARTIST TALK Sunday 4 June, 4pm There will be an informal talk where Helen will be discussing her career, designs, inspiration, and innovative techniques.
Free admittance to the talk and to observe the workshop session.
Please contact Gallery on 0207435 0510 or info@maureenmichaelson.com for full visitor information.
Latest exhibition
There is no exhibition in the garden in 2017, however the Gallery is able to source or commission artworks for clients as usual.
Mosaic Workshops Sat 3 June, 3-5pm and Sun 4 June, 2-4pm. Booking required. Artist Talk Sun 4 June at 4pm, free to attend. Book appointment with Helen Nock about commissioning work.