Frances Doherty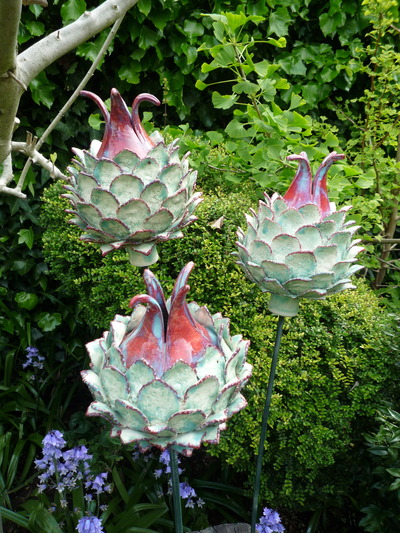 Originally trained as a pastry chef, Frances Doherty owned a restaurant in Brighton for about 10 years in the 80-90s. She became hooked on ceramics at an evening class, so she sold the restaurant to pursue the study of the subject further. She spent five years at college, studying photography and plastics as well as ceramics. She graduated in 2001, and in 2004 won an award for Best Newcomer at the British Craft Trade Fair. She then took a post-graduate degree in teaching and learning in Higher Education, and has worked part-time as a tutor at Northbrook College, Brighton University and HMP Ford.
Frances' inspiration comes from flowers and plants. She particularly loves the secret worlds inside these flowers, in the patterns and textures hidden away that give a continuing sense of promise and renewal. Since 2005 she has concentrated on larger, often one off, sculptural pieces, concentrating on the forms of seed pods and fruiting bodies. She likes to play with scale and will blow up photographic images to try to imagine the size that a plant must appear to an insect… often scaling up the sculpture so that we can get an 'insects eye view' of it. Her first craft of being a pastry chef has given her an unusual set of skills as well as actual tools to create her very intricate sculptures.
Frances works in stoneware, first throwing the basic shape of the sculpture, then altering and modelling onto it. Pieces are high fired for interior or exterior environments and careful attention to frost, ice and snow proofing is considered in the making of the forms. Glazes are chosen to complement the form and are often slightly chrystalline or irradescent, which makes the pieces glow.