Karin Hessenberg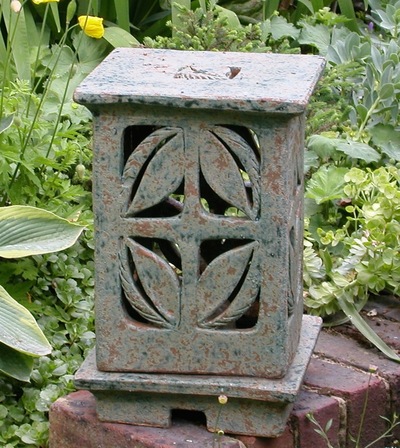 Since graduating from Camberwell School of Arts & Crafts in 1974, Karin Hessenberg has combined her career as a professional ceramicist and sculptor with teaching, lecturing and demonstrating.
Karin makes hand built stoneware garden planters, lanterns and birdbaths which were inspired by visits to India and Nepal. She has exhibited widely in Britain and abroad and her work is in the collections of a number of museums. She has published three books on ceramics. "Ceramics for Gardens & Landscapes" (A & C Black, 2000). "Sawdust Firing" (Batsford, 1994) and "Sculpting Basics" (A & C Black, 2005).
In recent years, she has made a remarkable series of ceramic portrait sculptures of Elizabethan and Tudor figures. These are three dimensional sculptures based on paintings held within important national collections. The most recent series includes one each of Henry VIII and his six wives.
This new work emerged from her growing interest in sculpture and her admiration for the lavish detail of the highly embellished clothing shown in Elizabethan and Jacobean paintings. For this work she furthered her sculpting skills by undertaking Master Classes and studying the construction of dress and accessories of the period.