Peter M Clarke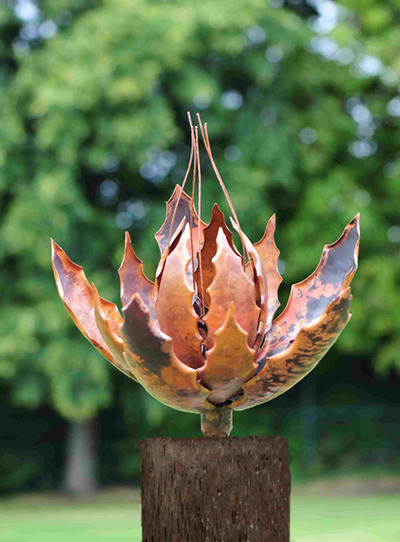 Peter Clarke developed a passion for designing and making sculpture while still a student at Camberwell College of Art. Although he works in a number of materials, he particularly favours copper, often combined with other materials such as stained glass or wood. Most of his finely balanced outdoor pieces are suitable for siting in soil or in water, where they incorporate movement as they gently sway in the wind.
The inspiration for Peter's work comes from nature, and many of the textures and finishes he introduces into his work are derived from organic surfaces of stem, leaf, pod or bark.Peter now has a studio on a farm in Kent, surrounded by horses, hens and peacocks. Working with metals, and especially copper because of its sensitivity to the texturing process, he makes each of his pieces by hand, either by drawing freehand directly onto the metal or by designing and working from a template. Cut shapes are heated to a temperature where the material is malleable and can be textured and hammered into shape.
Peters work has been exhibited widely in galleries and sculpture gardens throughout Britain and in many large stately homes as well as smaller gardens. He was recipient of the 'Best Sculpture' prize at Mount Ephraim Sculpture Trail, Kent in 1996. He has been featured in BBC Gardeners' World, Carlton TV Carlton Country, ITV Artworks, BBC Radio Scotland, the Financial Times, Country Life, Hephaistos, Artist Newsletter and the Sunday Express Colour Supplement.
Peter is happy to work on private or public commissions.
For GROW London 2015, Peter will be designing a new form