Fiona Campbell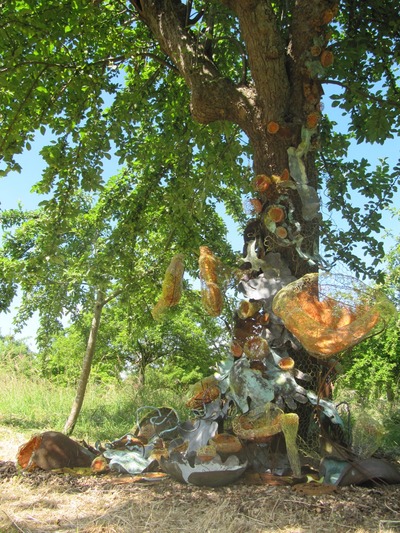 Fiona Campbell sculpts using mixed media including steel, copper, wire, found and recycled materials. The sculptures are welded, soldered, woven and shaped with a minimum of tools and equipment. The effects of rust, corrosion and patination are an integral part of the work.
Her 'nest' and 'cocoon' sculptures are closely modelled on actual forms she has observed in nature. The sculpture 'Cloudless Sulphur' is based on the cocoon of a yellow butterfly which is vivid pink in colour with subtle suggestion of the yellow creature transforming inside. Her 'Nest' forms are closely modelled weaver birds nests, some of which she has seen during her childhood in Kenya.
Fiona graduated from the Byam Shaw School of Art, London with distinction in Fine Art (sculpture), later gaining a PGCE at Exeter University. Her sculptures are often approached as drawings in space, the linear structures and layers becoming a form of 3D mark making. She exhibits extensively, works to commission, runs community projects, teaches and holds artist-in-residence posts. Awards include winner of the DSWF Wildlife Artist of the Year '09. She has exhibited at the Arnolfini Bristol, Stourhead National Trust and many other venues.
In 2014 Fiona made a short film 'Common Threads' with Ignite Somerset about her work. It can be seen here http://www.youtube.com/watch?v=feZpybRY8dQ
Fiona curating and co-ordinated STEPinSTONE, a collaborative, multi-stranded art trail around disused and working quarries in the East Mendips to illuminate these spectacular, hidden landscapes and explore Somerset's heritage and beauty which ran from July to Oct 2015.
For GROW London 2015, she made a site specific installation based on lichen for the Maureen Michaelson Gallery stand. Directly as a result of this installation, she was commissioned by multi-award winning landscape gardener Sarah Eberle to make a focal piece for her Viking Cruises show garden for the 2016 RHS Chelsea Flower show.