HIDDEN GARDEN ART SHOW, 2016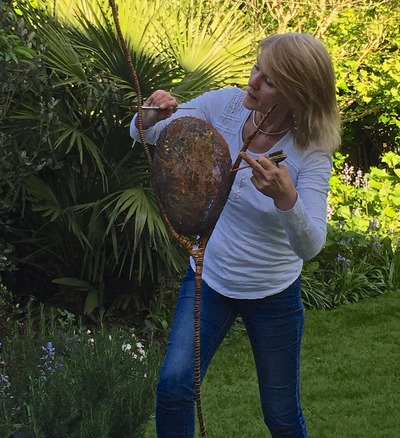 Location
Please contact the Gallery on 0207 435 0510 or info@maureenmichaelson.com for full visitor information
Opening times
Saturdays and Sundays, 4th - 12th June, from 11am - 6pm. Weekdays by appointment.
Fresh from making, respectively, the copper woven canopy and the floating boat for this year's Viking Cruises Chelsea Flower Show garden designed by Sarah Eberle, FIONA CAMPBELL and NICK WEAVER will both be exhibiting work. FIONA's wire sculptures include a large scale nest, and a spider with its web. NICK will be exhibiting a selection of his stools and tables made from reclaimed wood.
FRANCES DOHERTY is showing a new range of ceramic sculptures based on flowering cactuses. JONATHAN GARRATT's ceramic planters with their distinctive shapes will be shown in addition to his 'GARDEN PUNCTUATION' sculptural installations. HELEN NOCK will have her ever popular reclaimed slate and mosaic garden stools and tables, and new for this year, birdbaths and sculpture.
The final day of this year's exhibition, Sunday 12 June, will include a special event celebrating our 5th year of being open for Chelsea Fringe 2016. "RECLAIMED, RECYCLED, RESHAPED: Learn to make your own wire sculpture" features FIONA CAMPBELL who will be demonstrating her sculpting technique using reclaimed wires, twine, plastic and other found materials. There will also be a talk at 3pm where Fiona will be talking about her career, inspiration and methods. A fun day for ages 8+ to 80s. Visitors can pop in at any time during the day and stay as long as they please.
Further details about this Chelsea Fringe event will be added in due course. Please check back to the website closer to the date.
About the exhibition