HIDDEN GARDEN ART SHOW - in Association with Chelsea Fringe 2013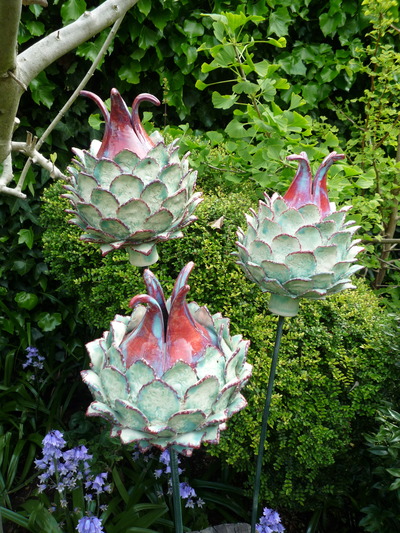 Opening times
18 May to 9 June 3013. Saturdays & Sundays, 12 - 6 pm. Weekdays by appointment
Meet the artist. Come and chat informally with glass artist Lisa Pettibone on Sunday 26 May, between 2 and 5.30pm.
'The Ceramic Gardener: Artist Talk with Frances Doherty', Sun 9 June at 3pm.
About the exhibition
Our 10th exhibition of outdoor art held in our private garden. Close to central London, this 'hidden' green oasis is a great surprise and delight to visitors with the added interest of a professionally curated exhibition. Seven established artists are making work especially for Chelsea Fringe in ceramics, copper, glass, metal, resin and slate. They include Peter M Clarke, Paul Cox, Frances Doherty, Jonathan Garratt, Helen Nock, Lisa Pettibone and Patricia Volk. The event demonstrates how suitably placed artworks can enhance any garden irrespective of size, by providing colour and focal points, even in winter.
The garden is open from May 18th - June 9th every Sat & Sun from 12 - 6 pm, and weekdays by appointment.
On Sunday 26 May, 2 - 5.30pm, there is an opportunity to meet glass artist Lisa Pettibone. Lisa will be happy to share her knowledge, interests and passion with visitors to the exhibition.
There will be an Artists Talk with Frances Doherty on Sunday 9 June at 3pm. Come prepared with umbrellas and warm clothes if the weather is bad!