Paul Cox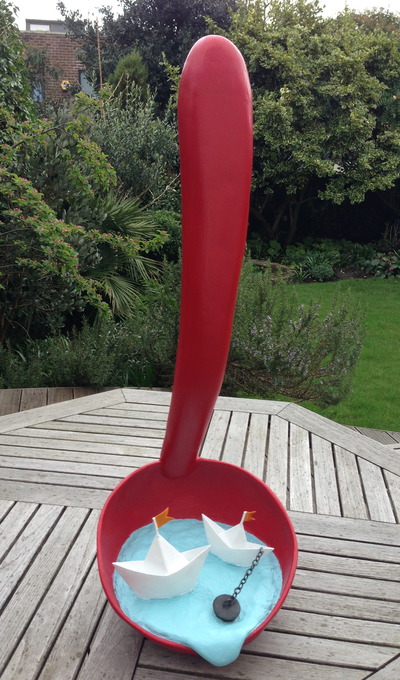 Paul Cox is a highly skilled and multi-award winning artist who exhibits internationally. His work is represented world-wide in major public and private collections. Among his many awards are the Henry Moore scholarship and Time Out magazine sponsorhip to study MA sculpture at the Royal Academy Schools, London.
Paul's works over the years have been in a variety of materials, including ceramics, metals, resin, lost wax casting, blacksmithing, and printmaking. He has various teaching and lecturing posts where he also teaches many of these materials. He likes to experiment with paper and cardboard exploring scale and form, which are translated into more permanent media like ceramic, bronze, steel and wood – "enjoying the variety of materials employed in my sculpture like hard metal and soft clay I can realise the sometimes surreal world from within".
Paul's unique creations exude an air of great mischief, joy and a light-hearted attitude to life. In his own words, he states "For me being an artist is a form of constant play and enquiry in many forms and on many levels…" and "I recognize that play is important, physical or intellectual play is involved in anything that is created."
Paul's working method is a unique and labour intensive process. Each piece is one off. The shapes of the sculpture are usually carved and sanded from high-density polyurethane foam. The finished form is then covered with polyester resin and two to three layers of fibreglass mat. When the surface has cured copper elements are added and fixed in place with another layer of fibreglass mat.
When the second coat is cured an undercoat layer of resin is applied; this is the first base colour coat. Final changes and adjustments are made at this point. The final coat is a coloured hard wearing wax impregnated polyester resin which repels any moisture protecting it from the elements.
Works in public collections include a nine ton sculpture of Noah's Ark in Yerevan in Armenia. Pride of the Valley Sculpture Park, Surrey Sir Harold Hillier Gardens main entrance, Hampshire Cafesjian sculpture garden, Armenia & Los Angeles James Hockey Sculpture Park, Surrey Pride of the Valley Sculpture Park, Surrey