Regina Heinz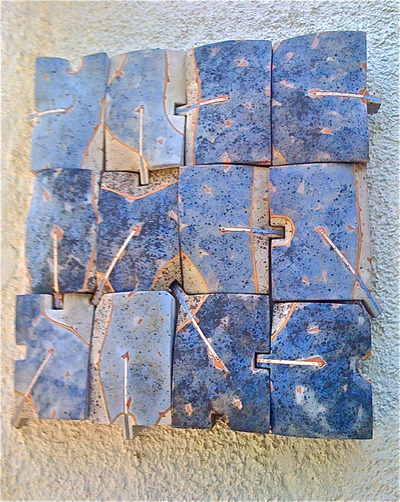 Regina Heinz, an award-winning ceramicist, creates freestanding ceramic sculptures and modular slab built relief wall panels for interior and exterior settings. Her building techniques capture the softness and pliability of the clay. She treats the tile forms as a canvas, firing many layers of glazes which are designed to enhance the form and texture of the pieces.
Projects include a site-specific installation of 9 wall pieces for the Broomhill Art Hotel in Barnstaple, Devon and a 5 ft tall sculpture for Rufford Craft Centre, Nottinghamshire. In 2006 her display at Ceramic Art London was awarded the Queensbury Hunt Prize for innovative ceramics and a solo exhibition of her work toured to Ruthin Craft Centre, North Wales and the City Gallery in Leicester. She works on commissions as well as for exhibitions in the UK and abroad. Her work is held in museum collections around the world. She designed a series of large tiles for a large cruise ship which were made up in fabric. A set of three of these is installed in all 2000 cabins.
Relying on her craftsmanship of ceramics and her background as a painter Regina has established an international reputation for innovative use of ceramic materials and processes. Precise forms and geometrical patterns painted in vibrant colours complement softly undulating clay surfaces. Inspired by landscape and modernist design, her work is abstract and contemporary yet sensual and organic and offers a unique blend between sculpture and painting. These pieces beautifully enhance any modern setting.
Regina Heinz studied Fine Art and Ceramics in Vienna, Geneva and London and has worked from her ceramics studio in South London since 1998. A resident in the UK from 1989, Regina Heinz received funding from the Crafts Council to set up her workshop. She is a Crafts Council Selected Member, an elected Fellow of the Craft Potters Association of Great Britain, and a member of the International Academy of Ceramics.
Her work has been purchased by the National Art Collector's Fund and is held in various museums including the Fitzwilliam Museum in Cambridge, England, the Potteries Museum and Art Gallery in Stoke on Trent, England, the International Ceramics Museum in Faenza, Italy and the Yingge County Ceramics Museum in Taipei, Taiwan. In 2008 she was invited to create work for the British Pavilion at the International Ceramic Art Museum in Fuping, China.
For GROW London 2015 she will be exhibiting high fired wall tiles which can be bought singly or in sets. These undulating, beautifully decorated tiles look equally good on brickwork as on painted walls.